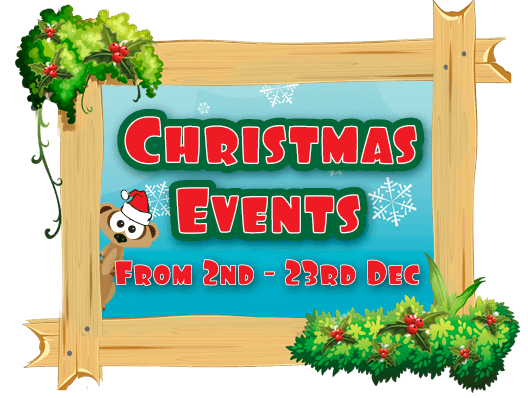 Throughout December Little Owl Farm is full of Christmas spirit, which is why we are inviting you to come and celebrate with us! Why don't you come on over and visit Santa in his Grotto, write him a letter then pick out a wonderful gift in Santa's Workshop & help keep his pet Piglets nice and toasty with dummies & blankets.

Visit Santa in his grotto at Little Owl Farm this festive season! You can post Santa a letter, take photos in Santa's sleigh, colour in Christmas pictures and even choose a present from Santa's workshop!

We have morning and afternoon slots available: 2nd, 3rd, 9th, 10th, 16th, 17th, 20th, 21st, 22nd, 23rd December.
What's included?
A half-an-hour Christmas group time slot
At the beginning of your timeslot, you will be taken into our Christmas room where there is colouring, writing letters to Santa, Christmas films showing etc.
You will then be called through to the amazing grotto where you can post your letter to Santa, donate any blankets/dummies etc. (anything your little ones are struggling to part with!) to Santa's pet Piglets, enjoy all of the festive décor, see Santa, choose a present from the work shop, and have plenty of photos in our sleigh etc.
JUST £7 per child! (in addition to our reduced rate entry prices!)
We work on a 2 adults per child ratio for the grotto. If you wish to have any additional adults in the grotto, this is charged at £2 per person, and must be paid on arrival at Reception.
How it works…
Phone 01905 620325, with a date in mind for your visit (from the above dates)
You will be given the option of AM or PM and given the next available time slot
Payment for Santa will be taken over the phone (£7 per child)
You will receive a confirmation text of your booking
Turn up on the day of your visit (anytime from opening at 10am! allow at least 15mins before your Santa timeslot)
Pay your reduced rate entry prices (£5.95 per person) & any additional adult grotto entries (£2 per person). check in for Santa on reception to get your ticket to the grotto!
Please head over to the Grotto at the beginning of your allocated time slot (this slot is non-transferable, and entry to other timeslots will not be permitted if you miss your allocated time).
Enjoy the farm park as normal whilst you wait/after your Santa visit
T&C's: Santa MUST be pre-booked and pre-paid. No refunds will be given. If you cannot make your time slot, you will not receive a refund or transfer unless under extreme circumstances in which this will be actioned with management discretion. Availability is first come, first served.  Everyone wishing to visit the grotto, must pay normal entry prices in addition to grotto prices, on the day of your visit. It is a combined visit and not done separately. Your given time slot must be adhered to, as entry to other time slots will not be permitted. If you loose your ticket (handed out on arrival) or miss your given time slot, then you will not be granted access to the grotto (If there is availability for another time slot, and you wish to re-book then a 2nd payment is required).
Schools & Groups (over 20 children)…

Group and School Bookings are available (over 20children only), 2 adult admissions to the Grotto for every paying child! (additional adults are charged at £2 pp for Grotto entry). 'Dates available: From the 21st November – 15th December (excluding Mondays and Weekends). Dependent on availability'. Please see below for special rates & dates!
Group T&C's: All Grotto Prices are in addition to entry prices and must be part of a combined Farm Park Visit. Santa MUST be pre-booked. If booking a visit on a week-day term time, School/Group Rates apply. A combined invoice for will be sent on the day of your visit. If booking weekends/holidays, reduced rate entry prices apply. Santa MUST be pre-booked and prepaid.

Group Option 1
£2
/child (+ entry price)
A visit to Santa's Grotto

Write a letter to Santa

No present included
Group Option 2
A visit to Santa's Grotto

Write a letter to Santa

Present included
How to find Us…
Address: Little Owl Farm Park, Owl Hill Lane, Dunhampton, Worcestershire DY13 9SS
Call: 01905 620325