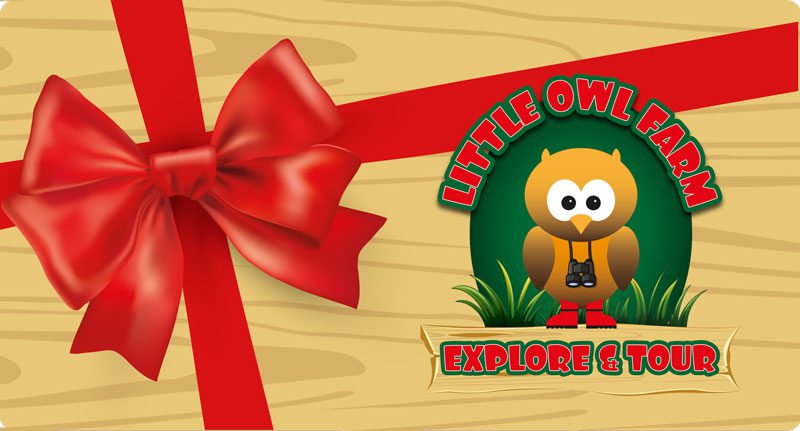 GIFT VOUCHERS
Following a large amount of enquiries, we are pleased to now offer our gift vouchers ONLINE. The vouchers are valid for 12 months, and are a great idea for a present that offers flexibility to those you wish to purchase the gift for.
Once purchased, you will then receive the voucher electronically. You can then print it from the comfort of your own home ready to send out to your loved one. Whether it be a birthday, Christmas or another special occasion, our gift vouchers offer your loved ones a day of fun and memory making.
How to redeem your online gift voucher
Congratulations on receiving a gift voucher to Little Owl Farm Park, we cannot wait to welcome you to our farm park! For now, we are still operating on reduced visitor numbers, so if you are planning to visit on either; a weekend, a bank holiday or a school holiday, you will need to pre-book your tickets through our website.
To book using our online gift vouchers, please choose from one of the following options: 
Option 1 - Book Online for Weekends, school holidays & bank holidays
Option 1: To book online for weekends, school holidays and bank holidays, please follow the following steps:
Head to our website at littleowlfarmpark.co.uk and select the 'Book Online' tickets you wish to purchase.
You will then be given the option to select your 'Non Members' tickets. 
You can then select the tickets you require to purchase.
When you get to the 'Basket Details' page, at the bottom of your selected tickets, there will be a 'Gift Voucher' box. Please enter your gift voucher number into this box. This will then deduct the value of your voucher from your order. If there is an outstanding amount, this can then be paid. Please note, only one voucher can be redeemed at a time and we cannot part redeem a voucher, this must be done in full.
Please keep a copy of your E-Tickets ready for the day of your visit.
Please note, that if on the day of arrival you have less group members than you booked for, unfortunately the original full amount will need to be paid on the day due to us operating on limited visitor numbers.
Option 2 - Weekday during term time
Option 2: Planning to visit on a weekday during term time?
We do not require pre-booking for weekdays during term time, so all you need to do is bring your voucher with you on the day of your visit. It's that simple!
 Want to use your online gift voucher to put towards an annual pass?
Yes that's right, if you are a regular visitor and enjoy your visits to Little Owl Farm Park, you can redeem your gift voucher against an annual pass purchase.
If you are planning to purchase an annual pass with your online gift voucher, when you have selected your required Annual Passes, on the 'Basket Details' page, there will be a 'Gift Voucher' box. Please enter your gift voucher number here, and the gift voucher amount will be deducted. Our reception team will then provide you with an application form and go through the Terms & Conditions with you on your next visit. Please note, we do have a limit on annual pass applications which may affect the application process.
You can find our terms and conditions on the 'Plan Visit' menu option under "Terms & Conditions'.
Got a question?
The team are happy to answer any questions you may have, write them an email using the button below.
Email Us